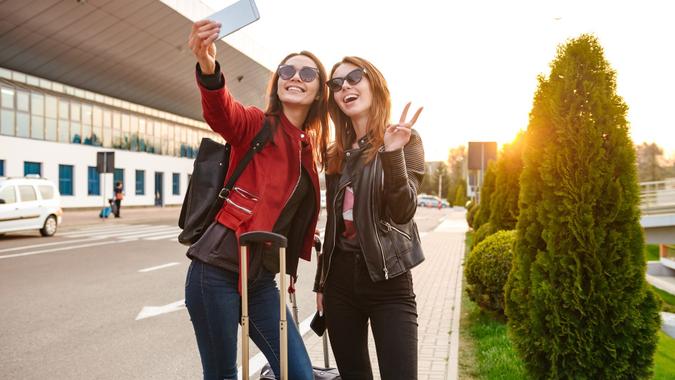 DeanDrobot / iStock.com
If ever there was a time to plan a cheap vacation, it is now, with inflation at its highest level since 1981. Travel prices have risen across the board, from airfares and lodging to gasoline and rental cars.
See: The best cities to retire on a budget of $1,500 a month
Find: 9 bills you should never put on automatic payment
One of the best ways to save on travel costs is to plan ahead, according to a new survey of more than 1,000 budget travelers by VacationRenter, a platform that uses automation and artificial intelligence to help travelers find rentals.
The best savings accounts: Choose a high-interest savings account from our top banks with rates 5 to 10 times the national average and start saving today.
The survey found that, on average, travelers who took four months or more to plan a trip spent significantly less on accommodation and travel ($370) than those who planned less than a month ($446).
More than half of respondents (55%) took at least a month to plan ahead for their vacation, including 14% who took four months or more.
Planning ahead for vacations saves money in several ways. One of the biggest is that you can find cheaper advance airfares by booking your flight well in advance. Likewise, you have extra time to compare hotel rates and destinations.
Even planning as little as a month in advance is beneficial because it gives you time to create a vacation budget. As noted on the Ally Bank website, budgeting ahead can help you avoid unexpected expenses. The key is to create a budget and stick to it when you book and while you're away. Here are the costs to consider:
Airfare Lodging Transportation (taxis, rental cars, trains, buses) Food and drinks Entertainment (museums, tours, live shows) Shopping
Live updates: Inflation and more economic updates
For the purposes of the VacationRenter survey, budget travelers are those who spend $1,500 or less per vacation. Among those surveyed, the average spend on a budget vacation was $957, with individual costs broken down as follows:
Transportation: $204 Lodging: $236 Food: $200 Activities: $154 Entertainment: $163
Gen Z respondents had the lowest average spend, at $754. Millennials ($953) and baby boomers ($1,010) followed. Gen X respondents spent more with an average of $1,023.
More than half (57%) of budget travelers left the state, while 32% stayed in the state and 11% visited another country.
In terms of saving money on vacations, here are the top three strategies budget travelers use:
More GOBankingRates Content
About the Author
Vance Cariaga is a London-based writer, editor and journalist who has previously held staff positions at Investor's Business Daily, The Charlotte Business Journal and The Charlotte Observer. His work has also appeared in Charlotte Magazine, Street & Smith's Sports Business Journal and Business North Carolina magazine. He has a bachelor's degree in English from Appalachian State University and studied journalism at the University of South Carolina. His reporting garnered awards from the North Carolina Press Association, the Green Eyeshade Awards, and AlterNet. In addition to journalism, he has worked in banking, accounting, and restaurant management. A North Carolina native who also writes fiction, Vance's short story "Saint Christopher" came in second place in the 2019 Writer's Digest Short Story Competition. Two of his short stories are featured in With One Eye on the Cows, an anthology published by Ad Hoc Fiction in 2019. His first novel, Voodoo Hideaway, was published in 2021 by Atmosphere Press.
Source: www.gobankingrates.com