KENNESAW, Ga. | September 26, 2022
Georgia's $50 billion-plus tourism industry will be the topic of Kennesaw State University's inaugural Campus to Community Forum at 10 am on September 29.
Panelists Leonard Jackson, director of the KSU hospitality management program, Kim Franz, director of programs and events for Cobb Travel & Tourism, and Dale Kaetzel, park president of Six Flags Over Georgia will discuss the challenges and future of an industry which currently supports more than 410,000 jobs statewide.
The Campus to Community Forum is a new series developed by the KSU Office of Economic Development and Community Engagement to bring together university and industry experts to engage in dialogue about some of the state's most pressing issues.
"As Georgia's economy continues to grow, connecting what's happening on our campuses with the communities we serve is vital," said Associate Vice President for Economic Development Tyler Reinagel. "Innovation and research will continue to change the face of Georgia industries, and KSU is well positioned to contribute. The Campus to Community forums will help us connect that work with partners from all sectors and industries."
Future discussions include:
Housing, November 7 – A critical part of the economy, regardless of sector or industry. With rapid growth in Cobb County and the Atlanta metro area, leaders have had to adapt to unique challenges and work toward long-term regional solutions.
Community Improvement Districts, February 9 – CIDs are a type of business improvement district widely used throughout the Atlanta metro area. CIDs are voluntary self-imposed districts, with commercial and industrial owners making additional investments in infrastructure, parks, and transportation.
Small Business Development, April 25 – Businesses with fewer than 300 employees or less than $30 million in annual revenue in Georgia are a priority in the economic development plans of Cobb County, metro Atlanta, and the state of Georgia. There are many resources available to bridge KSU's research and innovation ecosystem with the broader economy.
Reinagel said the topics for the Campus to Community Forums were selected based on input from economic partners throughout the Atlanta metro area and Northwest Georgia.
The community is invited, free of charge, to view the program via live stream at https://CampustoCommunityTourism.eventbrite.com.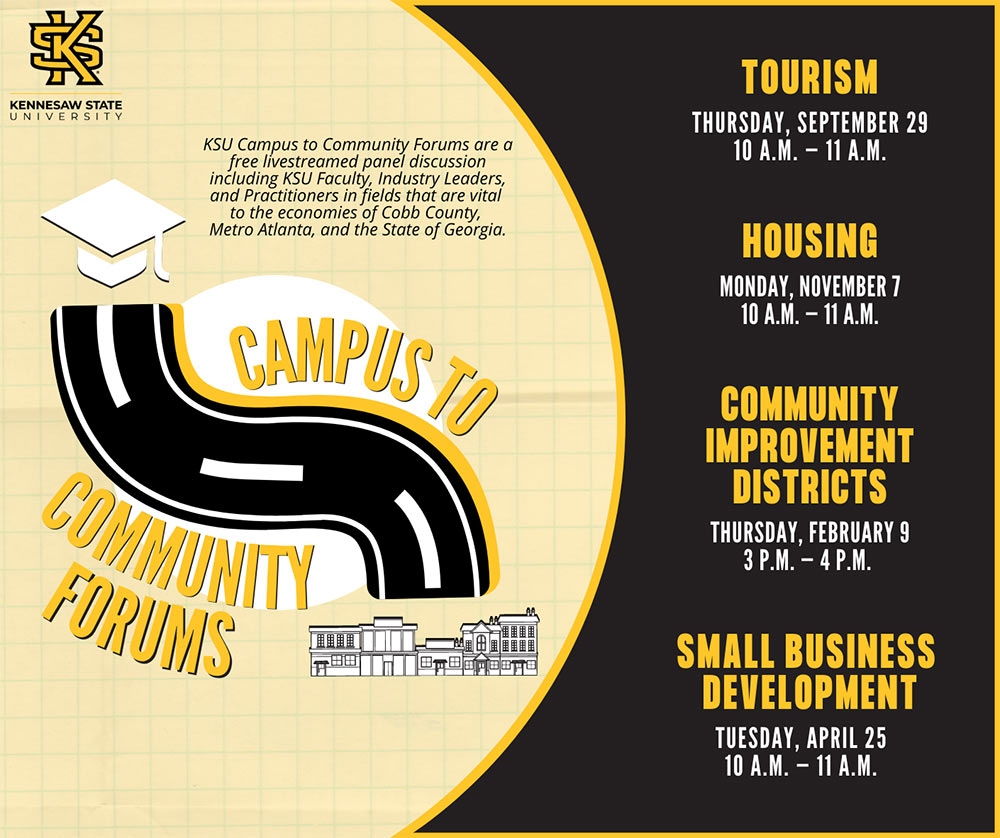 related stories
A leader in innovative teaching and learning, Kennesaw State University offers undergraduate, graduate and doctoral degrees to its nearly 43,000 students. With 11 colleges on two metro Atlanta campuses, Kennesaw State is a member of the University System of Georgia. The university's vibrant campus culture, diverse population, strong global ties, and entrepreneurial spirit attract students from across the country and around the world. Kennesaw State is a Carnegie-designated (R2) doctoral research institution, placing it among an elite group of only 6 percent of US colleges and universities with R1 or R2 status. For more information, visit kennesaw.edu.
Source: www.kennesaw.edu