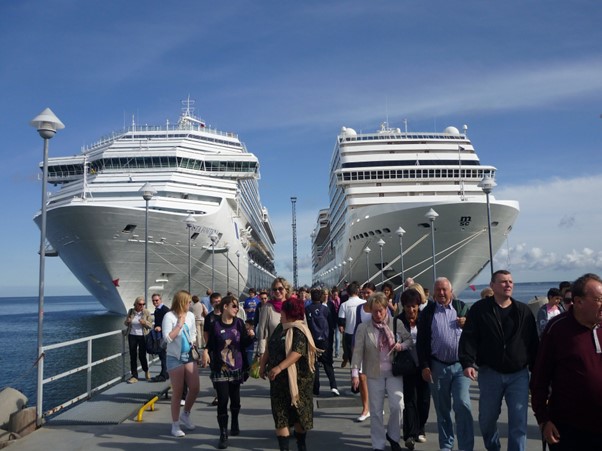 Cruises are a simple concept, but if you've never set foot on a ship before, the experience can be quite daunting. You're sure to be excited and hopeful that this is the first of many world cruises, and perhaps a little apprehensive about fitting in with the others.
Let's set the record straight by saying that your fears are unfounded and you will find passengers aboard luxury cruise ships just as friendly as anyone else you might meet while on vacation. They are people who share your passion for travel and will want to strike up conversations and share their thoughts about the world just like you.
If you're still feeling nervous, here are some tried-and-true ways to get to know your fellow travelers and fit in on your first luxury cruise.
Packing the right clothes will help set the right tone.
Start by checking for a cruise line dress code, and then pack accordingly. If it's the norm for men to wear jackets, don't be the only one who didn't pack one. If there are formal events during the cruise, dark tuxedos and suits are likely to be recommended. Women will be in line with sparkly sandals, statement accessories, statement jewelry, and gorgeous shawls.
During the day, it's okay to dress more casually, as long as you don't come across as a bum. If you're on the pool deck, make sure you have something to cover yourself with when you return to your suite.
Smile, relax and be yourself
On your first day on board, relax and soak up the experience. Now is not the time to worry. Remember to be yourself and stay relaxed. Enjoy the experience of meeting new people.
If you come across someone who doesn't drive you crazy, move on to the next one. There will be plenty of people eager to chat, and you'll see very few judge you on first appearances. The ship has a wonderful way of leveling the playing field.
Test the waters with a pre-cruise stay
There are some cruise companies that include a pre-cruise hotel stay as part of the itinerary. Take advantage of this option and you'll have the chance to meet some of your fellow travelers before lifting anchor and heading across the ocean.
It's a great inaugural experience and an opportunity for you to bond with other newbies. You'll also meet veteran cruisers who might have some tips to share.
Be friendly and smile on boarding day
This is a golden rule of thumb for the day of embarkation and it applies whether you are being transported from the airport to the port, standing in line at the cruise terminal, at the check-in counter, or enjoying your lunch on the day of embarkation.
This first day is an opportunity to meet people before they form groups. You may feel out of date or a little underdressed, but take advantage of it. People will remember your smiling face, your friendly greeting and your upbeat conversation.
Get inside information from the crew
The ship's crew have some of the best insider tips. From day one and throughout your cruise, strive to be friendly and you will be rewarded with a more genuine and personalized service. Also, take the time to introduce yourself to the maitre d' and cruise director.
Take part
There will be many activities on board and at sea that you can participate in. They are usually well attended and are the perfect opportunity to make friends. One of the fastest ways to make friends on board is to join a trivia team. Trivia sessions can get very competitive, but they're always great.
Other opportunities may include cooking or dance classes, enrichment lectures, or afternoon tea. These are great places to meet like-minded people and enjoy interesting conversations.
invite someone to dinner
Inviting people you like to dinner is common on luxury cruises. If you enjoy a few laughs by the pool or at the bar or have an interesting conversation with someone, invite them to join you for a meal.
Don't take it personally if he says no. Some people prefer to have dinner with their travel companion and no one else.
Remember to keep the conversation light and avoid controversial topics, particularly politics.
Take part in shore excursions
If one of the goals of your cruise is to meet new people, sign up for shore excursions. They are great ways to interact with your fellow travelers. Strike up a conversation in the performance room while you wait for the bus, or chat during the tour.
Most riders take advantage of the free tours, so be sure to do the same and sign up too.
bring your friends
There's a surefire way to make sure you fit in on a luxury cruise. Bring your friends from home to have fun. You are likely to have more fun in a group, especially if you already feel comfortable in their company.
Source: news.google.com